Our regular services are held weekly on Sunday morning at 11:15 am. Children are welcome at the service; they participate in the first half of the service, then go out for Sunday School classes.
The Ladies Aid meets monthly for worship, fellowship and quilting.
The purpose of the Ladies Aid is to support the church; we do that through fund raising and through specific project within the church. We also meet for fun and fellowship. Meetings are on the 3rd Wednesday of each month at 10 am, and we welcome new members. Come and see what we are all about.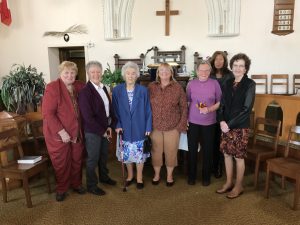 Women's Missionary Society
The Women's Missionary Society meets monthly for worship and fellowship. We generally meet at the church on the 1st Thursday of the month at 1:30 pm. Our members come from our 3 congregations, St. Paul's in Winchester, St. Andrew's in Chesterville and our own church. We usually follow a study in the Glad Tidings, and welcome people to join us.
Sunday School
We have 2 Sunday School classes, one for the younger children and one for children grades 7 and up. All are welcome to attend.